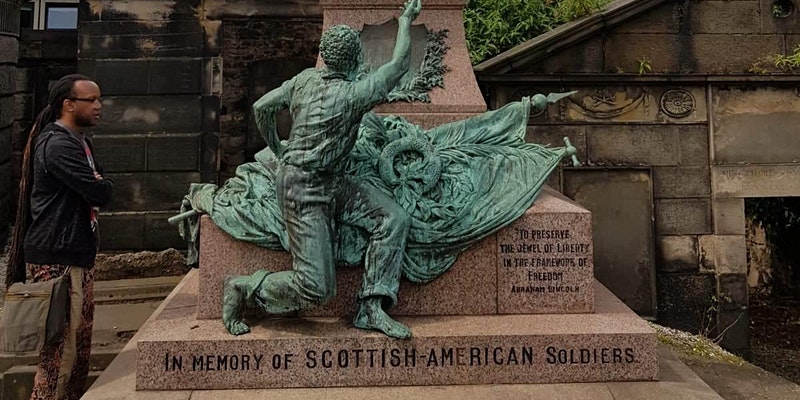 Discover Edinburgh's deep links with Africa and the Caribbean over the past 500 years in this guided walking tour.
With a focus on the Caribbean and Edinburgh's role in the Transatlantic Slave System, hear the little-known stories of Edinburgh's many visitors and residents of African, African American and Caribbean heritage from the 16th century to the present day.
The walk from the New Town to the Old Town will make you see Edinburgh's statues and buildings in a whole new way! The route itself is fairly gentle, lasts up to 2 hours and has some rest stops along the way.
About your tour guide
Lisa Williams is an author, poet and founder of the Edinburgh Caribbean Association. She curates a range of arts events across Scotland to promote Caribbean culture. She runs educational and anti-racist programmes and leads walking tours focusing on Edinburgh's Black History. She has an MA in Arts, Festival and Cultural Management and is an Honorary Fellow in the School of History, Classics and Archaeology at the University of Edinburgh.
FAQ
14+ years advised (babes-in-arms/buggies welcome).
Tours are typically on Sundays, 11am – 1pm, limited to 20 people max.
Please bring a mask and hand sanitizer, but there will be extra available if necessary. Your contact details will also be requested for track and trace.
Tours normally start at Melville Monument (Dundas Statue), close to both Waverley Station and St. Andrew's Bus Station – view on Google Maps.
Wear comfortable walking shoes, bring an umbrella and/or an anorak just in case! If the weather is bad, we may stay longer in our indoor stops along the way. Please note: hot drinks/food cannot be taken into the National Portrait Gallery (sometimes our second stop when it's open).
Access: Tours typically involved walking and using some steps, but we can modify the tour and route for those who need a flat surface. Please let us know your access requirements via email.
Safety: you need to be reasonably fit for the tour and are responsible for your own safety. Taking part in the tour means you are participating at your own risk. If you have pre-existing conditions that may be relevant or feel unwell during the tour, please let your guide know. You are also responsible for looking after your own belongings.
Data protection:

Your privacy is important to us. Please refer to our Privacy Policy.
Photos and/or videos of participants may be taken during the tour for archival and promotional purposes. Your consent will be requested at the time.

Copyright: Black History Walking Tour of Edinburgh is a form of cultural production and has been copyrighted. Please do not duplicate the information on the walking tour map without prior permission.
Tickets: refunds are available up to 7 days before the event. Tickets are not transferable. Discounts available for students and unwaged (please ask). No payment by cash – book e-ticket on Eventbrite.
---
Group and school bookings
On occasion, we take group bookings or can visit your school.
School visits can include music, dance and Caribbean food added to the history presentations, so please get in touch if you work in or have a child at a school in Scotland.
Email us to book a school visit or group tour.